These are rendered models. I'm just printing and putting together the prototypes. There are several variations to pick from, including colours of stones, base maps and sizes.
This is, for the time being, a rough guide to the possible variations. At the end of the Kickstarter, you will be sent a survey where you can decide what your configuration will be. A mix of material, patina, a combination between sarsen and bluestone or the same, which maps, which sizes.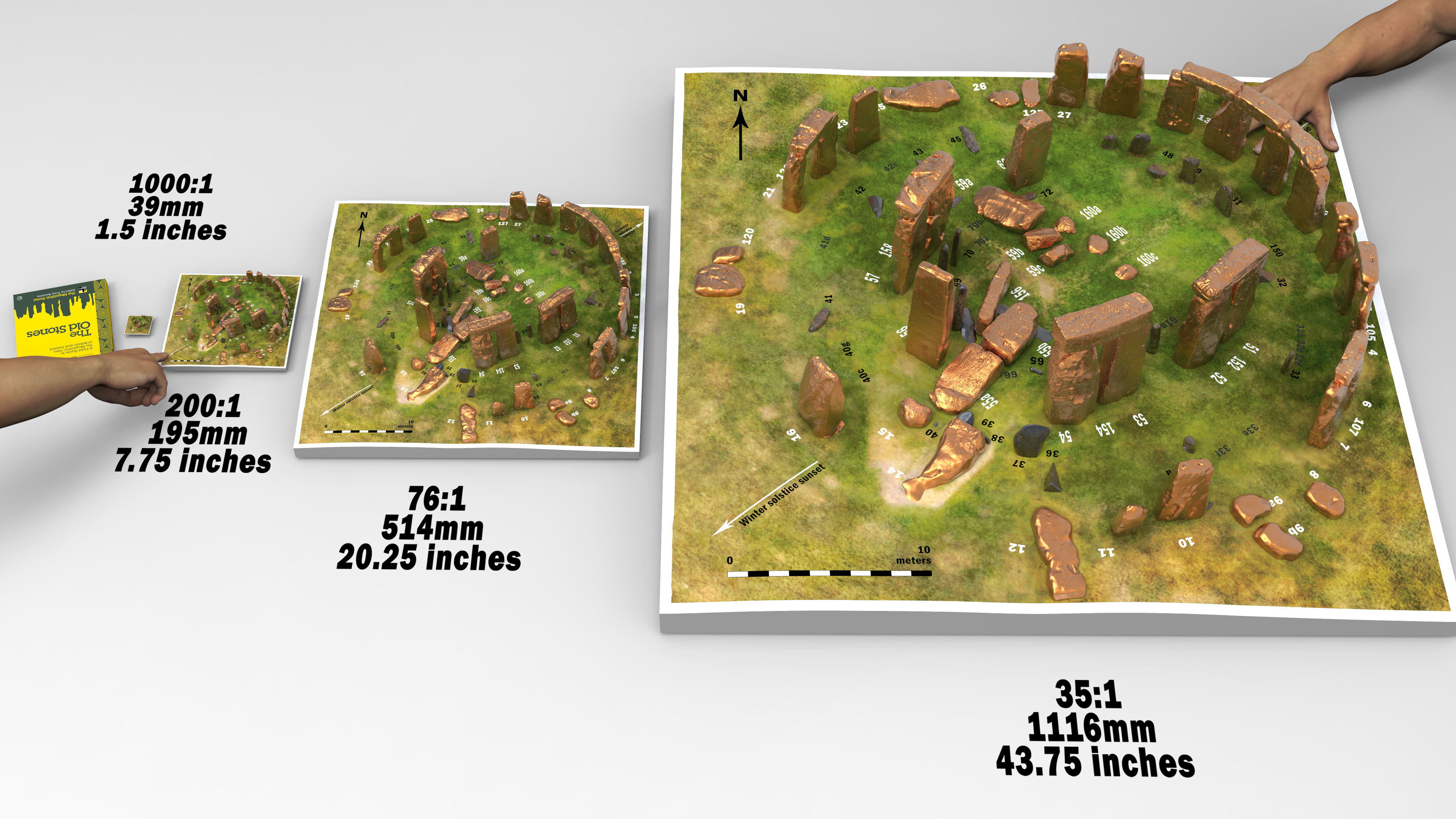 Sizes
200th scale
Trilithon Two is 1¼ inches tall (3.2cm).
The square base is 7.7 x 7.7 inches or 19.5 x 19.5 cm.
76th scale
Trilithon Two is 3¼ inches tall (8.3cm). 
The square base 20 x 20 inches or 51 x 51 cm.
35th scale
Trilithon Two is 7 inches tall (18cm). 
The square base 44 x 44 inches or 111 x 111 cm.
Wall hung
Fixed flat to a wall. A recessed back can be chosen, allowing for flush fitting to a wall.
Cold cast lightly rusted iron sarsens and bluestones with a numbered map.
Framed
To be clear!!! I'll not frame. There are way too many variables here. My experience as a witch photographer is that people need frames to match existing frames, their sideboard, curtains… Go to the local framer, spy their enormous range. Multiply this by the extraordinary number of mount types and colours…
And there's the stupid postage rates to protect the glass… Or did you want plastic, or matt glass, or thicker safety glass…. Yeah, this really isn't my bag, never has been never will.
Stonehenge 200th scale model framed, glazed and hanging on a wall. Bluestones are iron blue coloured, sarsens are off-white while the base has an aerial photograph showing the parch marks where the missing stones once stood. The numbered plan would be fixed to the rear and a spare stored close by.

Rusted iron on numbered grass map, framed, mounted glazed.
Maps
Broadly there are two versions: grass and plain. Three positions: top, bottom or both. And numbers, or not.
The numbers are arranged to explain the outer circle of sarsens, the inner circle of sarsen trilithons. While the bluestone inner circle is a slightly different typeface from the inner bluestone horseshoe.
If the plain top map is chosen, you'd really want an upside down version fixed to the bottom, wouldn't you? It's like holding it up the a window, except it it's not transparent, but you get the idea.
The grass version is a painting of grass. It's made from several maps and photographs to illustrate the worn paths and show more explicitly the missing stones from the outer circle and the mysterious Y and Z holes.
I'll produce several different versions of these maps. Some with smaller numbers, with outlined missing stones and Y and Z holes and combinations of these. And… Laminated colour print outs for your library. So, you may chose a plain grass map for the model, a numbered white map for the reverse and a laminated grass map with the numbered and outlined parchmarks.
The grass shows the parch marks of the missing stones.
White
Just as it would have been at the time of the builders. 
Off white sarsens and iron blue bluestones. Again plain parched grass showing the missing stones, but without the numbers.
Iron
Cold cast iron. Dipped in vinegar and salt and left to rot, for a while.
Lightly rusted cold cast iron with a parch map with the stones' numbers.
Light rust patina on cold cast iron with plain parch marks grass. In these cases, the numbers are on the reverse.
Clear
Carved by goblins from discarded Foxs' Glacier Mints.
Glass is good. Clear resin on white ground with numbered map. 
Glass clear on numbered grass map.
Bronze
Bronze cold cast with a light verdigris patina.
Sarsens in a bronze with a light verdigris green patina. Rusty iron bluestones. Plain white numbered map.
Brass
Matt brass or tarnished, glossy brass. Again, I like the combination of rusty iron bluestones. But, you could have wholly brass stones.
Copper
Lightly verdigris copper sarsens with lightly rusted iron bluestones on a white map.
Copper sarsens iron bluestones on grass map.
Chrome
Chromed resin on a white numbered map.
Plain parch marks grass with chrome stones.
Chrome stones on numbered parch marked grass.
Gold
Gold sarsens, silver bluestones.